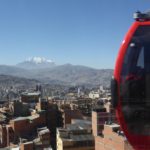 When I say that I spent three weeks on holiday in Bolivia, the first question is always: "Why Bolivia?"
My son and I began planning the trip with a few filters: Our schedules meant that May was convenient for us both, so the weather had to be reasonable in that month. Grant had spent a year learning Spanish, so he wanted to go somewhere he could keep that up. I wanted somewhere we could hike in decent-sized mountains. We both wanted to go somewhere neither of us had been before. Cheap and convenient to get too would be advantageous, but not essential These criteria resulted in a short list of Central and South American countries.
We started hearing good things about Bolivia, the "Tibet of South America," and we ended up having a hard time fitting in all the things we wanted to do there into three weeks.
LA PAZ
Not the easiest place to get to. We went via a day in Lima, Peru and returned via a day in Bogota, Columbia.
It is an amazing city, in a huge bowl underneath its suburb of El Alto:
It can best be seen from the modern "Teleferico" cable cars, which provide cheap (60c) public transport to many of the suburbs.
It is a city of many contrasts and vibrant culture, from the Amara street vendors …
… to the massive parade of the Fiesta del Gran Poder:
We stayed the first three nights at Cruz de Los Andes, a nice hostel on a quiet backstreet in the touristy Illampu neighbourhood. They have murals on the walls and a nice breakfast room. It was cheap and convenient so we later came back to the same place.
ISLA DEL SOL on LAKE TITICACA
There are many side-trips from La Paz. Our first one was a bus to Copacabana and a boat ride to Isla Del Sol on Lake Titicaca, the world's highest lake. It was a very peaceful, car-free place where you could enjoy hiking …
… and see llamas grazing.
SUCRE
We returned to La Paz and stayed at the Rosario Hotel. This is an impressive local style business-class hotel. In under fifteen minutes we had collected the luggage we had left there, picked up our laundry, checked into our room, and arranged a taxi and wake-up call for the morning. All done in perfect idiomatic English!
Next day, we took a short flight to Sucre, an old colonial city known for its white buildings ("Cuidad Blanca") and its central market.
POTOSI
From Sucre, we took a taxi for a couple of hours to Potosi. This ancient city sits at the base of Cerro Rico, the "rich mountain." This was the source of most Spanish silver and is still mined by collective groups of local miners. Grant had read about this in his South American politics course and was keen to go down the mine.
SALAR DE UYUNI
We then took another bus ride to Uyuni, a desolate spot known only for its train cemetery, a military base, and one of the world's largest salt flats.
You can take a drive for hours over an almost endless flat salt plain, and visit desert islands in the middle of a sea of salt.
CONDORIRI TREKKING
We flew back to La Paz, explored the Sopocachi area from the Casa Fusion boutique hotel, then headed out on our next adventure: three days and two nights trekking in the Cordillera Real.
Our guide met us at the hotel, loaded our luggage, and drove us out of town. In El Alto we stopped to pick up our cook. We drove a couple of hours through the burbs, ending up on a minor road, and then parked in a field. We had a picnic lunch while our luggage was loaded onto the mules. We felt like we were with "National Geographic!"
We camped out two nights. The second night we were at the foot of Huayani Potosi.
MADIDI JUNGLE LODGE in AMAZON
We were driven back to the Cruz del los Andes hostel in La Paz to freshen up before one more adventure: A trip into the rainforest!
This began with a trip on a very small Amaszonas plane to Rurrenabanque, a small town on a tributary of the Amazon.
We sent the evening watching activity on the river, and were very excited to see that this was our boat for the four hour upriver trip to our lodge:
The lodge was very pleasant, with a convenient hammock outside our bedroom.
We went on a number of short hikes to different parts of the forest.
Grant caught a piranha. It was only a few inches long, but it had really sharp teeth!
We flew back to La Paz for the last time, and spent a couple of nights at El Consulado hotel, just off the main drag, El Prado. This elegant small hotel used to be an embassy. We had a large room with very high ceilings and antique furniture.
Bolivia more than lived up to our expectations. The weather was very pleasant, never too hot or too cold (except for the nights in tents when trekking), with only a little snow shower when hiking. It was a bit difficult to get there, but there were no hassles once we arrived.
In some ways, it was annoying to keep coming back to La Paz between trips, but it was at the centre of our trips and had by far the best travel connections. Sometimes we deliberately chose a hotel in a different neighborhood. La Paz is so large and so diverse that the Amara neighborhood of Illampu feels like a different city to the middle-class Sopocachi or the downtown core by El Prado.
Bolivia does not have a great reputation for food, but we ate well. Sadly, the best food was in non-Bolivian restaurants, like llama Tikka Masala curry, Mexican food, baked beans on Irish soda bread at Copacabana, and excellent pizza in Uyuni. The local fruit juices were excellent, and a much better idea than the local wine.
We were concerned about the altitude. We had heard stories of people needing oxygen to get from their flight to baggage claim. We carried Diamox and steroids, and used the Diamox for the first few days, and for harder parts of the hike, but I am not convinced we needed them. The first night we carried our bags up three flights of stairs, and the next day we walked for five hours around La Paz. The last day of the hike I was weak and tired, resting every few paces, but I think that had as much to do with the long hike the previous day as with the altitude.
The airport was surprisingly efficient. Amaszonas kept changing the times of our flights, but we had no real transportation problems or delays. People were very friendly, and we were not harassed by beggars or souvenir vendors. I was glad I had learned at least some travel Spanish as even in museums, cheaper hotels, and restaurants, people did not speak English. They were very receptive to my efforts to communicate in Spanish.
On the whole our itinerary worked out very well. If I were going again I would book two nights on Isla Del Sol to allow for a day hiking the Inca trails, and only one night at Madidi Jungle Lodge.
I would strongly recommend Bolivia for anyone interested in a moderately adventurous holiday in a country with a huge variety of things to see and do.