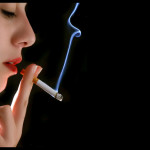 One of the worst things that ever happened to women's health was the "You've come a long way baby" advertising campaign for Virginia Slims, a new and thinner cigarette aimed at the female market. This advertising program linked smoking to the women's liberation movement of the 60's.  It made smoking seem like a way that women could be empowered and equal to men.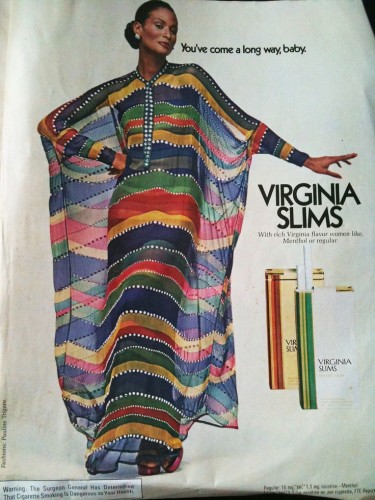 The campaign was very effective. From 1965 – 1975 the rates of smoking amongst Canadian men was already declining, as the health risks became known. But over the same period, smoking amongst women actually increased! Women were so convinced that smoking is what independent, emancipated, liberated women do that they ignored the health risks and took up smoking!
This graph clearly shows the association between smoking and lung cancer rates 30 years later. Peak smoking amongst men was in 1960, with peak lung cancer around 1990. Women peaked later, around 1975 for smoking and around 2005 for getting lung cancer.
"According to the American Cancer Society, as of 1983 only 16 percent of female smokers had quit, versus 31 percent of the men.

The tobacco industry developed a special strategy to sell the female market: convince the American woman that she needs her very own cigarette as absolutely as she needs her own underwear. The strategy has worked wonders over the last two decades. More, Satin, Eve and Virginia Slims now account for 5 percent of industry sales, worth about $1 billion a year. And Virginia Slims is the longtime leader".  – Cathryn Jakobson, New York Times. June 8, 1986
The Leo Burnett advertising agency must be very proud. Their campaign, led by a man (Harold `Hal' Weinstein) targetted women and successfully persuaded them to smoke, even after the 1964 Surgeon General's report had made everyone aware of the dangers of smoking, and even as men were quitting smoking cigarettes.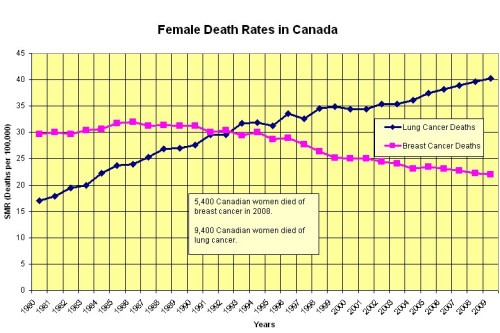 This graph compares the rates of breast and lung cancer deaths in Canadian women.  We are winning the war on breast cancer, but the rates of lung cancer were increasing up to 2009. More women die of lung cancer, almost all due to smoking, than from breast cancer. This does not get a lot of publicity because many victims of lung cancer feel they have only themselves to blame, and because lung cancer kills quickly.
Yes, you have indeed come a long way baby. Women can die of lung cancer just as well as men can.
---
Comments can be sent by email to smoking@oyston.com.
Please sign my petition to increase the minimum legal smoking age in Canada to 21.