Tobacco: A Global perspective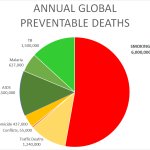 Globally, tobacco kills 6 million people a year, including 600,000 who die from second-hand smoke (WHO).
Smoking kills more people than AIDS, Malaria, TB, War, Murder and Traffic accidents combined:
If you compare tobacco with recent wars, major natural disasters, or disease outbreaks, it makes these events seem almost trivial:
Every year, smoking kills four times as many people as the total death toll from the Vietnam war, (including both soldiers and civilians from both sides). The Chernobyl nuclear disaster, the September 11th attacks, the Indian Ocean tsunami, the Haiti earthquake and the Ebola outbreak caused a total of 418,000 deaths. Tobacco kills more people in one month, every month.
In most developed countries a raft of legislation jas effectively reduced smoking, but in many developing countries there are few rules about advertising tobacco or regulations restricting smoking in workplaces or on public transport. Even if there are laws, enforcement is often unreliable.
As a result, while the number of cigarettes smoked per person is declining in developed countries, it is actually increasing in countries like China and Indonesia:
Looking at smoking rates around the world is interesting and concerning. Many parts of the world, such as Sub-Saharan Africa, have really low smoking rates. This is not because of strong public health measures, but merely because people are too poor to be able to buy cigarettes. For billions of people, cigarettes are up there with motorbikes, TVs and refrigerators as things they would like to buy if they had the money.
As people in poor countries get richer, they will start to have disposable income left over after they have bought food, clothing and shelter. If we are not careful, they will fall prey to the global tobacco industry and be seduced into spending that money on tobacco. In many countries, governments look at the profits from growing tobacco and manufacturing cigarettes, and at the tax revenue. They see employment and economic growth now, and they are not overly concerned about the health costs later.
Tobacco companies spend tens of billions of dollars each year on tobacco advertising, promotion and sponsorship. If that is allowed to continue, big tobacco will win.
To sell a product that kills up to half of its users requires extraordinary marketing savvy, and tobacco companies are some of the most manipulative product sellers and promoters in the world.- WHO report
Governments take in large amounts of tax revenue, but only spend a small amount on controlling tobacco:
The WHO has an excellent system for monitoring a group of recommended and effective tobacco control measures, but implementation is lacking:
We need to do much more to protect people, especially those in less developed countries, from tobacco. It would be much easier to prevent people starting to smoke as soon as they could afford a cigarette than to get them to quit a few years later.
---
Comments can be sent by email to smoking@oyston.com.
Please sign my petition to increase the minimum legal smoking age in Canada to 21.